Why do you need a website?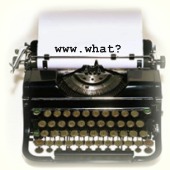 Because the days of the typewriter are over. Everything is on the internet now and you should be too! The place to be is online—where your product or service is easily accessible to the millions of people who use their computers to search for their needs before looking anywhere else.
Whether you are wanting a website to optimize your business or a personal site to display your talent, we can make a spot on the internet that's perfect for you.
Please take just a moment and send us a brief e-mail telling us what you're looking for in a website. You'll get a prompt reply with more information about our web design services.
What we offer:
Simple Sites—If your business needs an online presence where clients can gain information about your product or service, view a price list or description, and contact you through an email form, then you need a simple website done quickly and affordably.
Styled Sites—If you would like to incorporate more details into your website, such as a shopping cart, blog, or photo gallery, we can do it! We will set up your website with functionality and style, and either train you to do updates yourself, or do the maintenance for you.
We can give you a unique and personalized space on the web where you can effectively market your product or service.  Get online quickly and affordably with a website designed by StyledSimply.com.